Audio Delay for HDMI Connected Dolby Sources
I recently purchased a C9 OLED (firmware 03.60.04) and SL8YG soundbar (firmware main 5484640-157053), and have been experiencing large audio delays of up to two seconds when playing Dolby content from an external HDMI device through the HDMI ARC port between the TV and soundbar.
As the C9 supports HDMI 2.1, I have all of my HDMI sources connected directly to the TV. This allows me to take advantage of VRR, ALLM, etc. Whilst I understand that the SL8YG does not currently support eARC (I am hoping this will be released in a future firmware update), it does support DD+ over ARC. This allows the TV to passthrough Dolby Atmos content using DD+ rather than Dolby TrueHD over ARC to the soundbar.
The problem, however, is that only PCM and DTS are passed through the TV without introducing any audio delay. As soon as the source switches to Dolby related content (Dolby Atmos, Dolby Digital, etc.) there is a significant delay in the audio being transmitted to the soundbar. I have bought certified premium HDMI cables, which have made no difference. I have also tried every possible configuration in the TV setting menu (AV Sync Adjustment, Bypass, etc.), all of which have made no difference.
The reason why I know the TV is at fault is because all internal apps on the TV (e.g. Netflix) do not experience this issue with Dolby content. My 4K Bluray player (Sony UBP-X700) does not experience this issue either when it is connected to the HDMI in on my SL8YG - the audio and video are in perfect sync. It is only external devices that are connected through HDMI directly to the TV and have to pass audio over HDMI ARC that experience this issue. FYI, I have verified that Optical also experiences this problem.
A great test is to plug an Xbox One X into HDMI 1 on the C9 and an SL8YG (HDMI ARC) into HDMI 2 (ARC) on the C9. From the Xbox audio out settings, you can manually set PCM which works perfectly (no delay), DTS which works perfectly (no delay), but Dolby Digital or Dolby Atmos will experience significant audio delays. Further, if you leave the Xbox set to Dolby Atmos and then override the C9 'Sound Out' to be PCM rather than Passthrough, the delay is improved (as a rough guide, passthrough of Dolby encoded content would be around 1s whereas decoded to PCM would drop this to around 300ms). This highlights that there is a problem with the way that the C9 is processing Dolby content from external HDMI connected sources, which causes the audio to lag the video - something that cannot be manually fixed by any available adjustment, not that this would be a viable solution if you wish to use other advertised features of the TV such as ALLM.
I have reached out to LG support a number of times but have been unable to advance this discussion to the appropriate engineering team. Can you please pass this information on to the relevant engineers and advise on when we can expect this functionality to be fixed?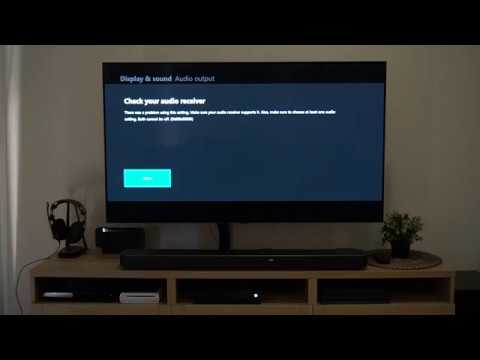 0:00 - 1:00 - LG C9 Audio Settings and Firmware Version
1:01 - 1:20 - Issue with LG C9 not being able to receive 5.1 or 7.1 uncompressed (this should work regardless of whether ARC is being used or not, as the TV can convert 7.1 uncompressed to bitstream output for ARC)
1:21 - 1:40 - Stereo Uncompressed (perfect, no noticeable audio lag)
1:41 - 2:08 - DTS Digital Surround (very good, no noticeable audio lag)
2:09 - 2:40 - Dolby Digital (poor, up to half a second audio lag)
2:41 - 3:15 - Dolby Atmos (very poor, up to a second or more of audio lag)
3:16 - 3:48 - Stereo Uncompressed (perfect, no noticeable audio lag)